ICC-ES Approved Girder Clamps
UCC Steelwork Connections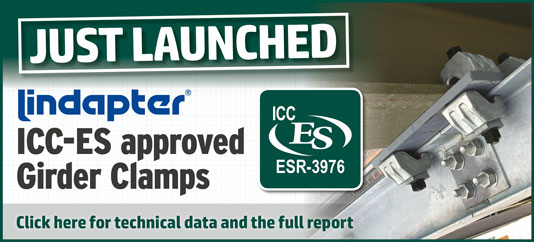 Lindapter's Girder Clamp is the world's first and only structural steel clamping system that is approved by ICC and compliant with the International Building Code.
ICC-ES report ESR-3976 verifies that Types AF and AAF Girder Clamps are an alternative to high-strength bolt assemblies prescribed in AISC 360 and are used in structural steel connections. The report also confirms that Girder Clamps may be used to resist axial tension and slip due to load combinations that include wind load or seismic load for steel structures in Seismic Design Categories A to C.
 

Lindapter Girder Clamps are a faster, cost-effective alternative to drilling or welding in the field and are designed to reduce installation time and labor costs. A high strength, permanent connection is quickly achieved by clamping two steel sections together.